School News
À la prochaine...
Posted on

February 1st, 2019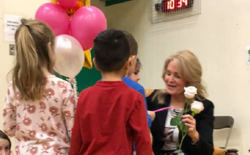 Today I mark my official retirement after many years in education.
Thank you so much to the staff, students and parents of École Père Kenneth Kearns Catholic School for the beautiful celebration in the gym. Two by two students from each class presented me with cards, roses and hugs followed by a beautiful prayer and a song from my Leadership Team.
It has been an emotional few days. I will cherish all the wonderful memories I have made with these beautiful little people. They have taught me so much throughout my career! I will cherish the amazing staff I have had the pleasure to work with and the two incredibly gifted administrators who have been my partners over the last 6 years.
Until we meet again may God bless the road you travel. Love you all dearly!
Mme Lucille MacPherson