School News
Advent Celebrations
Posted on

December 7th, 2017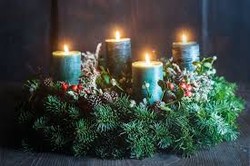 Chers Parents,
We are diving into the joyful and hopeful season of Advent.  This first purple candle of hope is lit!  During our morning announcements and assemblies, we are kicking off new Advent Calendar prayers to learn about and celebrate the many important symbols and their meanings during this season.  If you happen to be in the school first thing in the morning, we invite you to stay just a few minutes longer and join us for these very special prayers.
Staff and students are excitedly working through practices for the Advent celebrations and they are eager to show you their creativity at the matinée and evening celebrations.  We are so proud of the special care and great collaboration the staff and students are dedicating to celebrate the season of Advent.
A few friendly reminders:
Please send any extra tickets back to the office so they can be redistributed to our larger families.

The school will open at 5:30pm and the gym doors will be opened at 5:40pm for the first evening celebration on Monday and Tuesday and gym doors will open 20 minutes prior to the second celebration.

For our Kindergarten evening, school doors will open at 6:00pm and gym doors will open at 6:10pm.

For the safety of all, we thank you for leaving your shoes on and simply wiping them at the door as you enter.
Mme MacPherson will be attending EICS Division wide Professional Learning with our Connections Project guide Dr. Jody Carrington from December 11 to 13 and she will be joining the ÉPK family for the evening Advent celebrations.  For the beginning portion of next week, Mme Gravelle will be with her family as they navigate the funeral services for Mme Gravelle's mother-in-law.  We thank you for keeping her and her family in your prayers.
The staff and students are ready and eager to lead and welcome our extended ÉPK family to the Advent celebrations and share in the spirit of hope, love, peace and joy.
May the ÉPK Advent celebrations and the excitement of this season spark in you the light of Christ, and may it warm your hearts and the hearts of those blessed to walk the journey with you.
Yours in Christ,
Mme Gravelle & Mme MacPherson