ÉPK Online

Come and find ÉPK School on Facebook
www.facebook.com/epkkschool.eics.ab.ca
... And on Twitter
We are going by @EpkSchool for quick and brief "what's happening" updates from the school.
Check out our Newsletter here:
School News
Alpha is Back!
Posted on

September 12th, 2017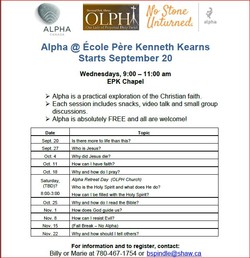 Wednesdays, 9:00 – 11:00 am EPK Chapel
Alpha is a practical exploration of the Christian faith.
Each session includes snacks, video talk and small group discussions.
Alpha is absolutely FREE and all are welcome!
For information and to register, contact: Billy or Marie at 780-467-1754 or bspindle@shaw.ca