ÉPK Online

Come and find ÉPK School on Facebook
www.facebook.com/epkkschool.eics.ab.ca
... And on Twitter
We are going by @EpkSchool for quick and brief "what's happening" updates from the school.
Check out our Newsletter here:
School News
Author Visit by Mr. Tyler Enfield
Posted on

April 13th, 2017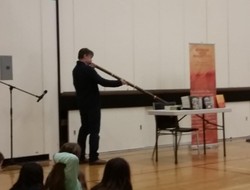 Thank you to the grade 3 & 4s who were very quiet and respectful when Mr. Enfield was talking. Thank you also to those who purchased books. 
If you would still like to purchase an autographed copy of one of Mr. Enfield's books, bring a purchase order and money next week (April 17-21) to Mme Heather in the library.