ÉPK Online

Come and find ÉPK School on Facebook
www.facebook.com/epkkschool.eics.ab.ca
... And on Twitter
We are going by @EpkSchool for quick and brief "what's happening" updates from the school.
Check out our Newsletter here:
School News
Presentation of Drama Options
Posted on

May 31st, 2016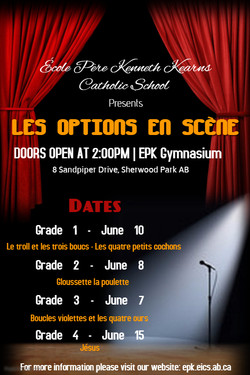 Please join us in the gym as our students perform their Drama Options.
Grade 1 on June 10
Grade 2 on June 8
Grade 3 on June 7
Grade 4 on June 15
Doors open at 2pm for each presentation.