School News
ÉPK Weekly - Feb. 26-Mar. 2, 2018
Posted on

February 26th, 2018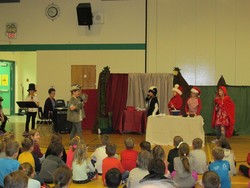 Another short week... goodness February is almost over? How did that happen?
Thank you to everyone who came to watch our options presentations last week. If you have photos of the plays could you please email Mme Heather (heatherc@eics.ab.ca) a couple so that we can add them to our end of year slideshow?
There are a bunch of open houses going on this week. St. Luke (grades K-8 in South Cooking Lake), École OLPH (grades 5-8), and Archbishop Jordan Catholic High School are all welcoming parents and students (new and old) to their schools for tours. If you know anyone who would be interested in any of these schools, please let them know!
If you can, please attend Tuesday's parent council meeting (in the library at 7pm) The future of French Immersion in EICS will be the main topic of discussion.
For more details and other things going on this week at ÉPK check out our newsletter.