ÉPK Online

Come and find ÉPK School on Facebook
www.facebook.com/epkkschool.eics.ab.ca
... And on Twitter
We are going by @EpkSchool for quick and brief "what's happening" updates from the school.
Check out our Newsletter here:
School News
Oct. 23-27, 2017
Posted on

October 23rd, 2017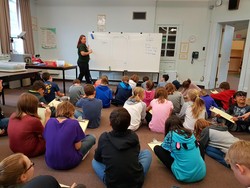 Last full week of October and we're doing great things at ÉPK! Where has the time flown? We've grown so much.
Check out our Newsletter to see what's happening at ÉPK in the near future. Don't forget to keep an eye on the calendar and on the "snippets" at the bottom of the webpage for upcoming events.