ÉPK Online

Come and find ÉPK School on Facebook
www.facebook.com/epkkschool.eics.ab.ca
... And on Twitter
We are going by @EpkSchool for quick and brief "what's happening" updates from the school.
Check out our Newsletter here:
School News
Recognition for helping Fort McMurray
Posted on

July 7th, 2016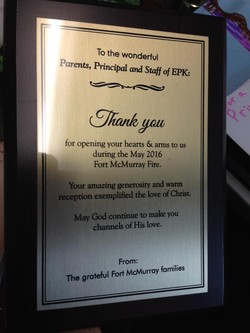 Thank you to each of you for truly being the light of Christ! Thank you for opening your hearts to these families! Each of them have found a new direction to continue their lives, and the hope to do so was kept alive by you!

EPK parents, staff and students were presented (will be presented to the school at our first assembly) this plaque on June 30, 2016 . It will be proudly displayed!!!