ÉPK Online

Come and find ÉPK School on Facebook
www.facebook.com/epkkschool.eics.ab.ca
... And on Twitter
We are going by @EpkSchool for quick and brief "what's happening" updates from the school.
Check out our Newsletter here:
School News
Recycling Heroes!
Posted on

September 21st, 2017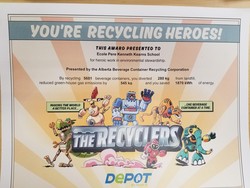 Look at what we did last year! By recycling bottles at ÉPK we saved 280kg from going to the dump. We also saved 1870kWh of energy by recycling!
Think of how much more we saved from going to the dump by recycling and composting at ÉPK too!
Congratulations! Let's see if we can beat that number this year!