Back to all posts
Posted on:
2019 Advent Concert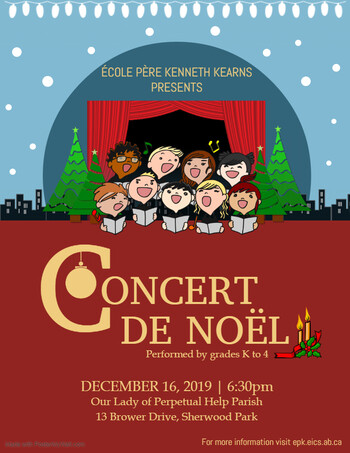 It is with great excitement and anticipation that we share with you details about École Père Kenneth Kearns Catholic School's Advent Celebration that will be held at Our Lady of Perpetual Help Parish on 13 Brower Drive, Sherwood Park.
The concert will begin on:
Monday, December 16th at 6:30pm, with doors opening to the public at 6:00pm.
Please note that seating is limited and therefore we have allocated a first come first serve seating arrangement.
Students performing must arrive ready at the parish at 6:00 pm and directly find their homeroom teachers.  Students are asked to wear their "Sunday's Best." As a safety precaution, we ask that adults please pick up their child(ren) up from their homeroom teacher after the concert. Food bank donation will be accepted at the door.