Back to all posts
Posted on:
3 Way Conferences (Fall 2020)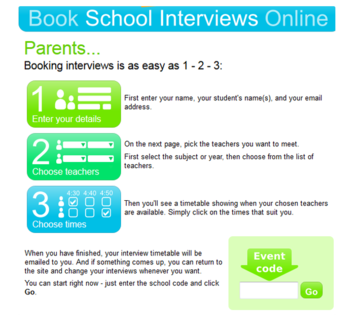 Dear Parents,
3 Way Conferences Letter Fall 2020
We are going virtual! Given the times, this year we will be hosting our 3 Way Conference virtually via google meets.
Three-Way Conferences, which includes conversations between your child, the teacher and parent(s), centered on learning, are vital checkpoints in assessment and learning success. Conversations guided by evidence of learning and a celebration of progress as well as goal setting for future growth are fundamental for continued growth and success.
Student/Parent/Teacher Conferences will occur from 4:00pm – 8:00pm on the week of November 2nd to November 5th (individual interview schedules for teachers may vary, please check the website for more detail)
You can now book interviews at times that suit your family best.
School Event Code: txh5b
Please note:  Interviews are strictly 12 minutes only. This allows for technical issues since these interviews are virtual. It is vital that parents keep the schedule and end their appointments in a timely manner. If you think you will need more time, please discuss this with your teacher at the appointment. Thank you for honouring your conference time. The teacher will provide a follow-up email to both parent and child with a google meet invite link.
Parents can change their interview bookings, any time prior to the closing date (3:00PM November 2nd, 2020), by re-visiting the www.schoolbookings.net  website, and using the event code. Please remember to use the same name and email address you used when you made your original booking. Parents wishing to change their interview times after the closing date are asked to contact the school directly at: 780-467-7135 between 8:00AM and 3:30PM or via email @ epk.eics.ab.ca
Merci for your cooperation.