Courses for Parents
How to use Google tools to support your EICS student
Did you know your child, as an EICS student, has access to G Suite for Education?  These tools allow students to access, share, and create knowledge that supports their learning. On Feb. 28 from 7:00-8: 30 pm, come to learn what Google for Education tools your child has access to and explore how to use those tools to support them at home.  This session is for all learners, whether you are a beginner or have experience with technology.  There are limited spaces so please register here or go to http://bit.ly/EICSGoogleTools  
Please come with your child's EICS login information (if you don't know how to access this please ask your child or your child's teacher).  If you don't have this, we will have alternative logins so all participants can participate. 

Central Learning Services 
310 Broadview Road             
Sherwood Park, AB             
T8H 1A4
If you have any questions, please contact your school administrator or Heather van Streun (heather.vanstreun@eics.ab.ca)
Family and Community Services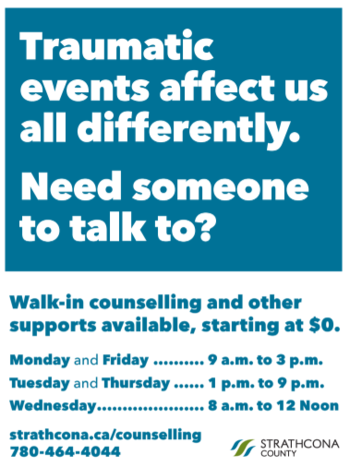 As a close-knit community, we know many children, parents and community members are dealing with trauma. It is during these times that connections and support become increasingly important. While everyone reacts to and deals with traumatic events differently, please know Strathcona County's professional support services are available for anyone who needs to talk.
No appointment is needed, and this is a "pay what you can afford" service (starting at $0). Services are available at various times, Monday through Friday.  Visit www.strathcona.ca/counselling or call 780-464-4044 for more information. 
Please consider sharing this information with your network as a reminder of the community resources available to residents during this difficult time.
Sincerely,
Family and Community Services
Parenting in the Digital Age