Dr. Jody Carrington
There are two upcoming sessions with Dr. Carrington.
Afternoon of Monday, October 15, 2018 = Professional Series - It's all you need - believe it (tickets $32.25)
Evening of Monday, October 15, 2018 = Parental Series - Strengtheining the relationship between our babes, our partners and ourselves (tickets are free, but you need a ticket to enter).
Both events are at the Dow Centennial Centre - Shell Theater in Fort Saskatchewan.
For Tickets contact: Dow Centennial Centre - 780-992-6400 or visit www.shelltheatre.ca
EICS Parent Information Night - Parenting in the Digital Age
EICS is pleased to present Christine Quong, Educational Technology Consultant with Edmonton Regional Learning Consortium who will share her insight and tips on parenting in this ever-changing technology landscape.


When: Tuesday, October 16, 2018
Time: 6:00 p.m. until 8:00 p.m.
Location: Archbishop Jordan Catholic School (Library)
4001 Emerald Drive Sherwood Park
Connect Parent Group
Wednesday Afternoons 1:30- 3:00PM
October 31 – December 19
(no class November14)
*Light snacks and refreshments will be provided.
Where:
OLPH Parish Basement
13 Brower Drive Sherwood Park
This is a 7-week attachment based program that provides parents with a new perspective on parent-teen development.
It is our goal to strengthen the relationship between you and your teenager and create a space for parents to connect and support one another.
PREREGISTRATION IS REQUIRED!!
This course is FREE of charge
For more information and to  register, please contact your Connect Trainers:
JACELYN GIACOBBO
PSYCHOLOGIST, EICS Inclusive
Learning Services
780.410.6250
jacelyng@eics.ab.ca

MICHELLE HORON
FAMILY WELLNESS WORKER
ABJ High School
780.467.2121 ext 1210
michelle.horon@eics.ab.ca
Family and Community Services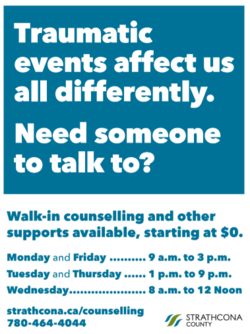 As a close-knit community, we know many children, parents and community members are dealing with trauma, directly or indirectly related to the recent Humboldt Broncos tragedy. It is during these times that connections and support become increasingly important. While everyone reacts to and deals with traumatic events differently, please know Strathcona County's professional support services are available for anyone who needs to talk.
No appointment is needed, and this is a "pay what you can afford" service (starting at $0). Services are available at various times, Monday through Friday.  Visit www.strathcona.ca/counselling or call 780-464-4044 for more information. Attached is a poster sharing these services, for your use.
Please consider sharing this information with your network as a reminder of the community resources available to residents during this difficult time.
Sincerely,
Family and Community Services