Co-Parenting Workshop
The presenters will help you find new ways to:
• Make your child a priority
• Understand the impact of separation on your child
• Choose a better way to communicate with each other
• Learn skills to deal with resentment, anger and conflict
• Understand the impact of stress on children's brain development
Registration is required
laurie@irelate.ca - 780 2358212
Fee: $40.00 per person
Date: Choose either Saturday, June 23 or Saturday, July 7, 2018
Time: 9:00am to 4:00pm
Location: Park Centre & Hotel, Sherwood Park
Pre-Kindergarten & Kindergarten Open House
Pre-Kindergarten and Kindergarten at ÉPK offers a rich French Immersion experience for your pre-school child. Your child will explore early literacy and numeracy concepts in a faith-filled and loving environment.  Learning to socialize and explore the environment with others to build higher level thinking and problem solving skills is an important facet of Pre-Kindergarten at ÉPK.

Our program is based on the principles of the Early Learning and Child Care Framework.  These principles are founded in the belief that early childhood programs need to provide opportunities for "children to participate within open, engaging, and responsive environments where exploration and play are encouraged and purposefully planned.".
ÉPK offers PreKindergarten programming for children aged 4 years by December 31, 2018 and both half or full day Kindergarten programs for children aged 5 by December 31, 2018. As an inclusive School Division, Elk Island Catholic Schools also offers funded services for children.  We welcome you to contact the Early Learning Consultant during school hours with your questions about funding.  margs@eics.ab.ca 
Please bring your child and join us for an evening of information and play.  Our open house will be held May 15 at École Père Kenneth Kearns Catholic School from 6:00pm to 7:00pm.  Our amazing and welcoming French Immersion staff will be on hand to answer all of your questions and inspire much enthusiasm for your child's excellent education.
Family and Community Services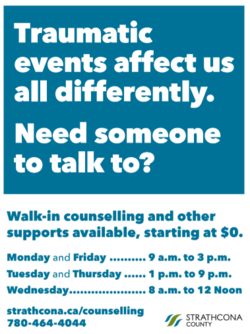 As a close-knit community, we know many children, parents and community members are dealing with trauma, directly or indirectly related to the recent Humboldt Broncos tragedy. It is during these times that connections and support become increasingly important. While everyone reacts to and deals with traumatic events differently, please know Strathcona County's professional support services are available for anyone who needs to talk.
No appointment is needed, and this is a "pay what you can afford" service (starting at $0). Services are available at various times, Monday through Friday.  Visit www.strathcona.ca/counselling or call 780-464-4044 for more information. Attached is a poster sharing these services, for your use.
Please consider sharing this information with your network as a reminder of the community resources available to residents during this difficult time.
Sincerely,
Family and Community Services